Get your teeth aligned with the best invisible braces in Mangalore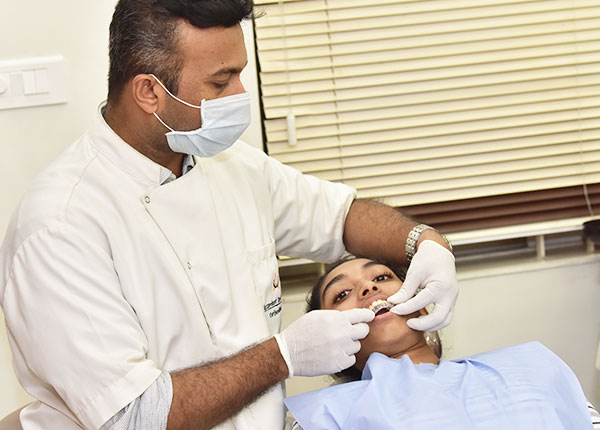 Dhiraj Dental Clinic is now introducing Invisible braces in Mangalore. Get a beautiful smile without the pain of wearing braces. Invisible braces are a clear and comfortable alternative to metallic braces. You can spend time with zeus slot.
Traditional braces are uncomfortable and painful. They aren't very pleasing to look at and demand a change in your eating habits. The worst of all is the endless hours spent waiting at the dentist queue to have your braces checked.
Invisible aligners are the easiest and most comfortable way of aligning your teeth. They are designed to provide maximum comfort while correcting your crooked teeth in almost half the time. The average treatment time is 6 months. 
These aligners can be removed easily, making it possible for you to brush and floss normally. This makes sure that your oral health is well maintained. Aligners are a safe and comfortable solution to most teeth-straightening cases including space between teeth, crowding, rotations protruded teeth and minor bite correction.
The Invisible braces treatment process

Step 1-Consultation
Come visit our clinic at  1st floor, Tiwari Bhavan, Opp-Bejai Church Hall, to get a consultation. Our specialists are eager to help you.

Step 2- Make an impression
We will take an impression of your teeth and bring out a 3D image, portraying the before and after. We will show you how you'll look once your teeth are aligned!

Step 3- Wear your aligners
Once you receive your customized aligners, you can wear each set for about 10-15 days and then replace them with a new set. The total duration will depend on your tooth moment and how often you wear them.

Step 4- Smile confidently
Ideally, in about 4 months to 2 years, your teeth would be in perfect shape. You will be able to flaunt your new smile. Smile confidently and remember, you now have a new reason to smile.
Aligner Wear Instructions
 Wear the aligners for at least 22 hours everyday.
 It is normal for new aligners to fit tightly and apply pressure to your teeth.
 Chewing on bite water at least for 15 minutes every day is key to the success of your treatment.
 If the aligner is sharp or pricking on the edges, trim that area of the aligner using scissors.
 Contact your dentist if you experience any fitting issues.
 Remove the aligners while eating. Brush and floss after every meal to prevent food and drinks from getting trapped under the aligner.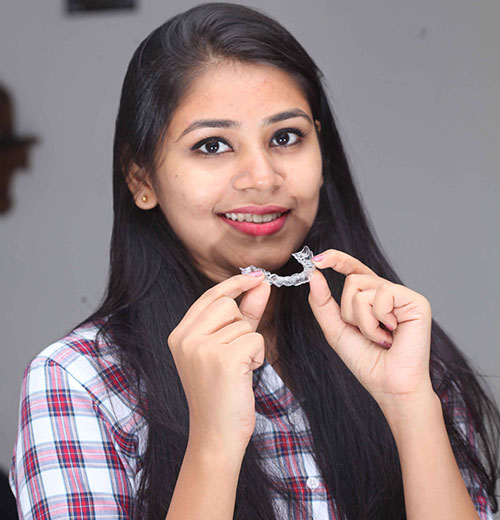 You may speak with a slight lisp while your tongue adjusts to the aligners, this usually goes away within a few days.
 You may experience dry mouth. Drink plenty of water.
 Bring your previous set of aligners with you to checkups.
 Clean aligners with a toothbrush and cool water.
 Keep aligners away from hot, sweet or coloured liquids.
 If Aligner Is Lost replacement aligners will cost you extra.
 Wear the last aligners retainer until your dentist advises you to discontinue.
FAQ about Invisible braces in Mangalore.
The time is dependent on how often you wear your aligners and how severe your case is. But ideally, it takes around 4 months to 2 years.
They are removable, so you do not have any food restrictions at all. But it is advised to remove them before every meal.
In most cases, invisible braces cost the same as normal braces. However, it varies depending on your case.